T

ime Travelling Tardis Among Doctor Who Props for Sale at Bonhams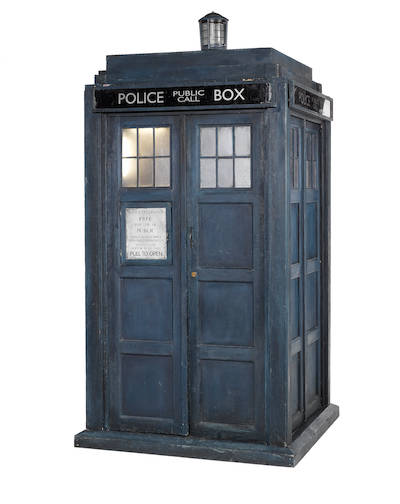 B

onhams are to sell the TARDIS used to transport Christopher Eccleston as the ninth incarnation of Doctor Who in the Entertainment Memorabilia auction on 23rd June 2010 at Bonhams, Knightsbridge.

The TARDIS was created for the programme in 2005 and is expected to fetch £8,000-12,000. A more affordable miniature TARDIS model created for exhibition purposes and measuring 5ft high is also on offer, with an estimate of £300-400.


Some of the oldest Doctor Who props ever to appear at auction will also go under the hammer. Daleks from the sci-fi programme always prove popular with bidders, and this sale includes the two of the oldest examples to come to auction. Lot 126 is believed to be the earliest surviving Dalek – it first appeared in 'Dr. Who And The Daleks', 1964 and 'The Chase', 1965 and is estimated at £2,000-3,000. Lot 128 featured in 'The Evil of the Daleks', 1967 and is also expected to fetch £2,000-3,000.

A Cyberman helmet from 'Moonbase and The Tomb of the Cybermen', 1967 is estimated to sell for £3,000-4,000.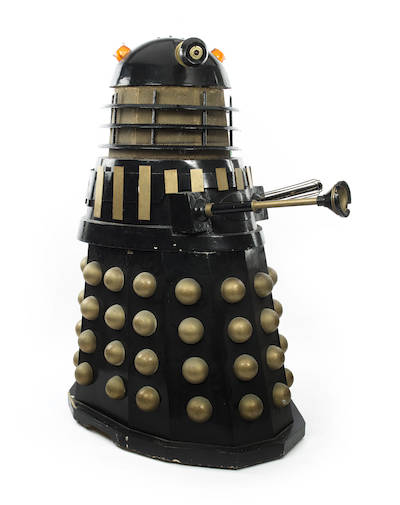 You may recall a large auction earlier this year (February) where Bonhams had a great number of Doctor Who items of interest -

In a packed saleroom 163 lots from the BBC archive of Doctor Who memorabilia

were sold this afternoon at Bonhams, Knightsbridge, many selling for three, four or five times their pre-sale estimate.

The sale achieved a total of £253,158 with 100% of lots sold. As the world's longest running science fiction television programme, Doctor Who has attracted a cult following. The sale saw fans and collectors entering bidding wars in an attempt to acquire authentic, screen-used props. Competition was fierce and the top lot was an

Imperial Dalek (Mk 1)

which achieved an estimate-busting price of £20,400 (estimate £2,500-3,500). A second

Imperial Dalek (Mk 2) made an equally impressive £15,600 – both going to telephone bidders. Cybermen

, who featured regularly in the Classic series proved very popular with the most expensive achieving £9,600 – nearly five times its pre-sale estimate of £1,800-2,500. Two versions of the

Malus from 'The Awakening'

episode were also bought for high prices. Lot 114 – a large Malus mask went for £3,000 and the Malus miniature made £1,920.

David Tennant was a highly popular Doctor with more than 10 million people tuning in to see his last adventure over Christmas. A

pale blue shirt

worn by him in various episodes was snapped up for £1,260 – nearly five times the pre-sale estimate. Several items from Voyage of the Damned – the 2007 Christmas special in which Kylie Minogue starred as his assistant, Astrid Peth, were also on offer.

Astrid's waitress outfit

was bought for £3,120.

Stephanie Connell, Entertainment Memorabilia Specialist at Bonhams, comments: "This is a fantastic result proving what an iconic show Doctor Who is. Collectors for both the new and classic series were out in force today – demonstrating the continuing popularity of both series - and Bonhams are delighted to have held such a high profile sale."
Bonhams
Bonhams, founded in 1793, is one of the world's oldest and largest auctioneers of fine art and antiques. The present company was formed by the merger in November 2001 of Bonhams & Brooks and Phillips Son and Neale UK. In August 2002, the company acquired Butterfields, the principal firm of auctioneers on the West Coast of America. Today, Bonhams offers more sales than any of its rivals, through two major salerooms in London: New Bond Street, and Knightsbridge, and a further five throughout the UK. Sales are also held in San Francisco, Los Angeles, Carmel, New York and Boston in the USA; Toronto, Canada; and France, Monaco, Hong Kong, Australia and Dubai. Bonhams has a worldwide network of offices and regional representatives in 25 countries offering sales advice and valuation services in 57 specialist areas. By the end of 2009, Bonhams had become UK market leaders in ten key specialist collecting areas.For a full listing of upcoming sales, plus details of Bonhams specialist departments, go to www.bonhams.com (February 2010).